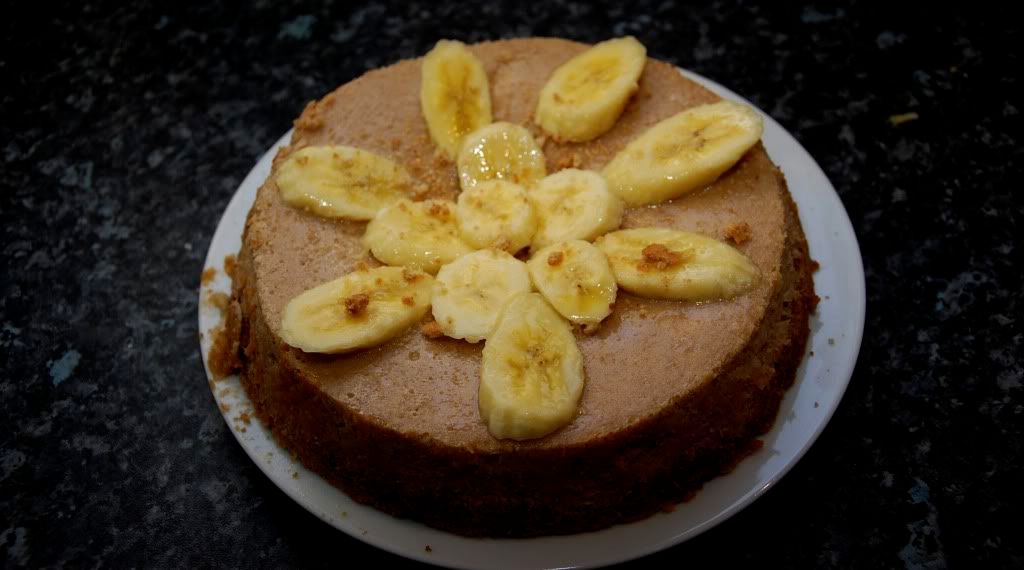 I made this today, it was quite tasty, definitely the best cheesecake I've ever made, as the last one was a milky shambles.
Banana Cheesecake
Ingredients:Crust:
120g digestive biscuits.
40g melted butter.
Filling:
6 bananas.
Juice of a lemon.
3 eggs.
400-500g cream cheese.
100g sugar.
1 tsp cinnamon.
Instructions:
Pre-heat the oven to 180/Gasmark 6.
Mix the crust ingredients together and place in the oven for 10 minutes.
Lower the oven temperature to 140/Gasmark 4 once the 10 minutes is up.
Mash 3 bananas with 2 tablespoons of lemon juice.
Combine the rest of the filling ingredients with the mashed banana mixture.
Pour the filling onto the biscuit base and bake for 1 hour.
Turn off the oven and allow to cool, then refrigerate for 1 hour.
Cover the remaining bananas in lemon juice before using to decorate.